Remember the Mini 3 Pro? DJI left us all gobsmacked with that one by packing a treasure trove of tech into a feather-light drone. Well, folks, fasten your seatbelts because the DJI Mini 4 Pro has burst onto the scene with an impressive list of upgrades.
Sure, the camera might seem like déjà vu, but wait till you hear about those nifty omnidirectional obstacle sensors. They're like the drone's guardian angels, making sure it never hits a blind spot. And, if that's not enough, we've got the cherry on top – ActiveTrack 360, allowing you to orchestrate epic camera moves while tracking your subject. Say goodbye to shaky shots!
A Stylish Upgrade
Now, let's talk looks. The Mini 4 Pro is still a featherweight champion at under 250 grams, which means you can soar through the skies without the hassle of licenses or registrations in many regions. But here's the scoop – it's undergone a makeover.
The forward- and rear-facing sensors have shifted positions to keep an eye on the sides, and the design has been given a modern twist. There are snazzier cooling vents, sleeker rear arms, and new landing feet at the front. Even the camera/gimbal shield got a makeover for your convenience. Plus, there's a new propeller guard in town to protect those precious blades when you're not in the air.
And the camera? It's still your trusty partner in crime, tilting up 60 degrees and down 90, and flipping 90 degrees to grant you full vertical resolution for your social media glory. Don't fret about storage; this baby comes with 2GB of internal space and a microSD port for those "just in case" moments.
But wait, there's more! DJI has thrown in a $55 ND filter set for those sunny days, and an 18mm equivalent lens attachment for just $40. Beware, though, it might give your shots a quirky, fish-eye twist. There's also the magic of DJI's Lightcut, an editing app that sprinkles stardust on your videos for social media. No more downloading footage to your smartphone; it's all done wirelessly.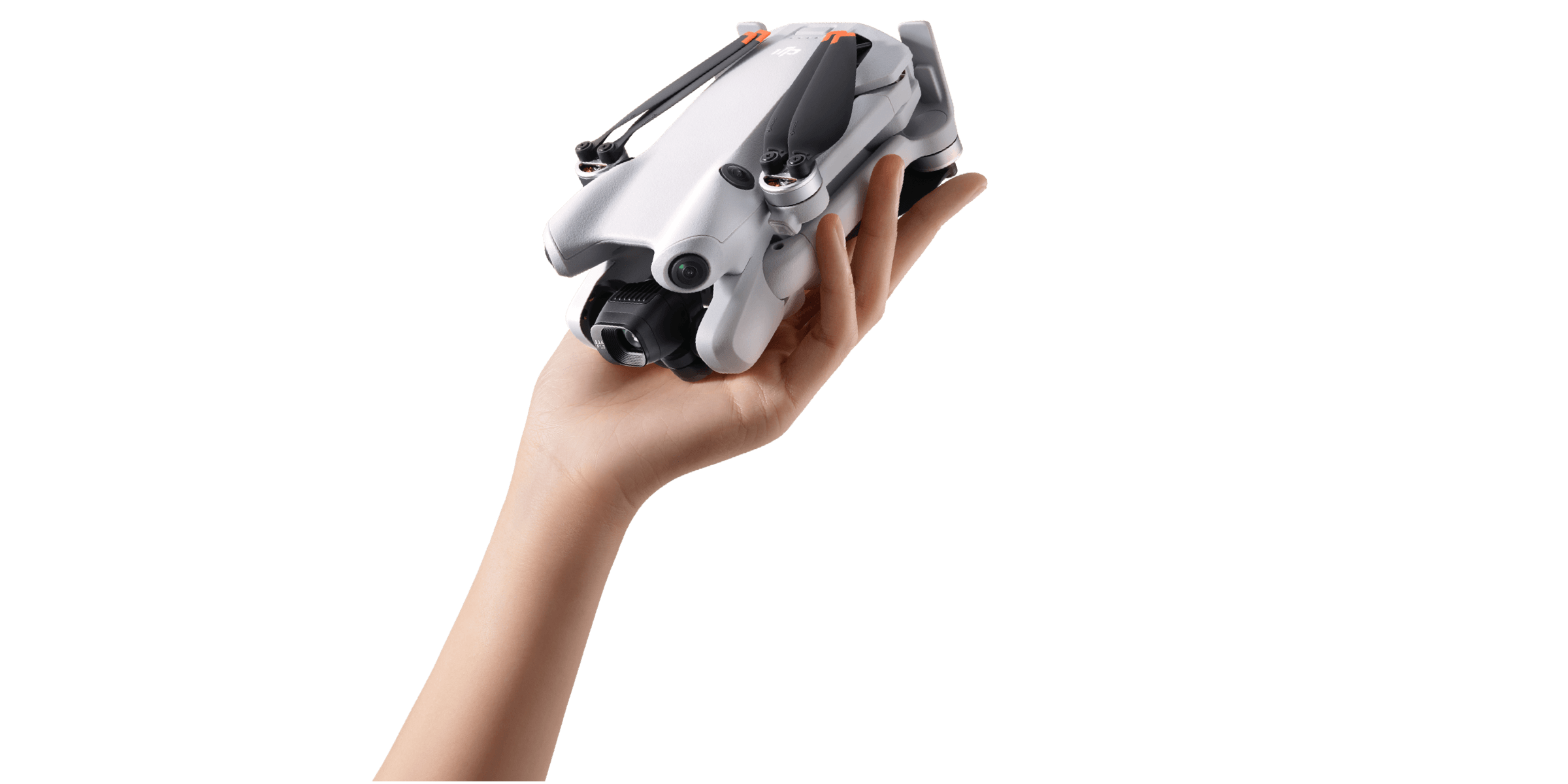 Performance That'll Leave You Breathless
Let's talk performance. This little dynamo, armed with the same sensor as DJI's Action 4, is your flying action camera. It's lightweight, nimble, and doesn't break the bank, unlike its high-end cousins.
Zooming along at a nifty 35 MPH in sport mode, or a comfortable 26 MPH in regular operation, it can handle winds up to 24 MPH. It might look like it's dancing in the wind, but your footage will stay rock-steady, thanks to DJI's gimbal and stabilization wizardry.
Remember the Mini 3 Pro's blind spots? Say goodbye to those with the Mini 4 Pro's omnidirectional sensors, inspired by the Mavic 3 Pro and Air 3. It's like giving your drone an extra pair of eyes, and it's backed by DJI's APAS, offering automatic braking and obstacle dodging. Safety first, right?
I took this baby for a spin among trees and potential snags, and yes, there were a few bumps and scrapes (oops!). Here's what I learned: these sensors are sunshine-loving, so dim light is a no-go. Thick forest with fine branches? Nope, they can be tricky. And, oh, the drone is at its best when flying forward, a bit less so sideways, and not so great when flying in reverse. Lesson learned: obstacles can be a handful.
But fear not, ActiveTrack 360 comes to the rescue! It adds cinematic flair to your subject tracking. It's a tad confusing at first, but once you get the hang of it, it's like painting a masterpiece. Draw a route on concentric circles, and watch your drone follow it, gracefully dodging obstacles. The only hiccup? Figuring out which way is forward can be a puzzle. Practice in an open space before taking it to the big leagues!
And if you're not in the mood for artistic flourishes, don't worry! The Mini 4 Pro still has DJI's automatic modes for social media savants – MasterShots, QuickShots, Panorama, and Hyperlapse. Plus, it's got the Waypoint feature from the Mavic 3 Pro, allowing you to pre-program intricate drone maneuvers and play them on repeat. Fancy, right?
Better Connectivity Than Ever
Speaking of connectivity, the Mini 4 Pro boasts Ocusync 4 transmission, a technology we first fell in love with in the Air 3. It sends 1080/60p video up to 20 km (12 miles for our friends across the pond), even if your drone decides to play hide-and-seek behind obstacles. Trust me, this upgrade is a game-changer. No more video hiccups!
Power That Keeps Going
Now, for the power nerds out there – the standard 2,590 mAh Intelligent Flight Battery is a tad beefier than the Mini 3 Pro's 2,453 mAh cell. But here's the kicker: flight time remains a solid 34 minutes. In the real world, we squeezed out about 25 minutes of fun before the return-to-home warning chimed in. So, plan your adventures accordingly.
And here's a little secret – if you already own the Mini 3 Pro, your batteries are buddies with the Mini 4 Pro. It's like a reunion of old pals. Unfortunately, our friends in Europe can't enjoy the Plus batteries, which offer up to 45 minutes of flight, due to local rules. Sorry, Europe!
Controllers That Up the Ante
Let's not forget the controllers! DJI gives you two options: the basic RC-N2, which requires your smartphone, and the RC2 with a built-in screen. These are equipped with DJI's new Ocusync 4 transmission, so they're a match made in heaven with the Mini 4 Pro.
Camera Magic
Last but not least, the camera. The Mini 4 Pro sports the same 1/1.3 dual ISO sensor as its predecessor, with a trusty 24mm equivalent lens and a fixed f/1.7 aperture. That's a pretty hefty sensor for a drone of this size, just a smidge smaller than the Mavic Air 2S's 1-inch sensor.
But what sets it apart? Brace yourself, folks – it supports 4K slow-mo at up to 100 fps and 1080p at 200 fps. Wildlife, crashing waves, and epic moments are about to get a slow-mo makeover. And that's not all; it boasts 4K at up to 60fps and 1080p at 120fps, with a nifty digital zoom for both modes.
Are you a fan of cinematic flair? DJI's got your back with D-LogM, boosting dynamic range and unleashing your creative side. Plus, there's HLG mode for that dynamic range boost you've always wanted. Both modes support 10-bit 4:2:0 capture, so your videos will pop with vibrant detail.